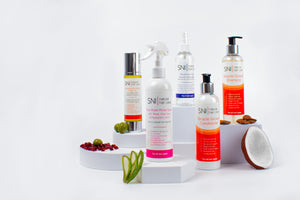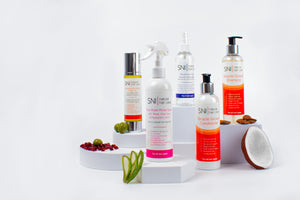 Hair Loss.

Hair Growth.

Hair Strength.

Scalp Health
and more, naturally. 6 Easy Steps to Beautiful Hair
SNI Natural Hair Care Products are focused on
Hair Growth, Hair Loss, Hair Strength & Scalp Health the easy, convenient and fuss free way.

Our products are clean and natural plant based clinically efficient formulations for modern busy lives for all the family.
Subscribe to the Beautiful Hair Bundle now!
(Also available without subscription and as single products. pause, cancel and edit anytime)
Making Hair Care Rituals Easy and Modern is what we do at SNI
No more lengthy, messy DIYs. Clinically efficient, easy to use and fast-acting formula
Shop
Modernising Traditional Hair Oil
- More convenient
- Less time consuming
- Easy to wash out
- No mess
- Smell pleasant
- Lightweight, buildable consistency
- No silicones
- Ingredients which enhance each other in harmony
Shop
Wash Days Made Easy Naturally
Hate washing and drying your hair?
Dread the hair loss and time consumed drying your hair? Hair forever frizzy?
Scalp greasy the next day?

This is your bundle!
Shop
★★★★★

The Sweet Orange Miracle Hair mist has literally got rid of my dandruff and my hair loss. I also don't have greasy roots on the second day any more and hair feels so fresh. I don't have tangles, or frizz….basically, you are right! It is a miracle mist!

Saira

Instagram
★★★★★

The Miracle Growth Range is GOLD! My hair has grown 6 inches since using and my whole family love it. We don't like to use anything else and moroccan oil doesn't feel right anymore!

Taiba

Instagram
★★★★★

The hair oil is godsend. It isn't greasy and smells amazing. I hate
lavender but this is so light, floral and just a hint. It helps me sleep
as well as reduce my hair loss – Bonus!

Farrah

Instagram
★★★★★

I have been using the miracle hair growth shampoo and conditioner for over six months and the results are unbelievably amazing! I recommend this duo alongside the hair oil ! 10/10

Shamela

Google
★★★★★

The SNI hair oil is amazing I've been using it for almost a year. I started using the hair oil when I got really bad postpartum hair loss. My hair is in such good condition now, it's so much stronger and whenever I comb or wash my hair, I rarely have any hair fallout.

Naimah

Google
The Secret of the Yao Women
Rice Water Spray
Want thick, long, grey-less and detangled hair? Our rice water spray uses fermented rice water with hyaluronic acid, biotin, aloe vera and rose to help nourish your hair. This formula is inspired by the Yao women of China who have knee-length hair well in to their 80s - and not a single grey hair!