NEW SNI ROSEMARY HAIR GROWTH STIMULATOR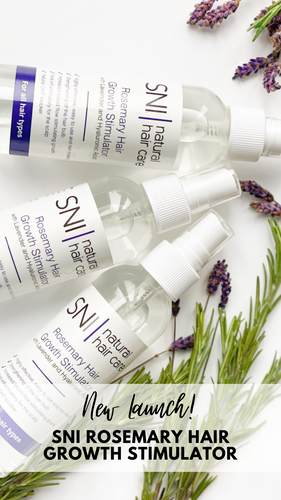 We have recently launched our newest product - SNI Rosemary Hair Growth Stimulator, which is a clear liquid solution with a spray pump. If you are experiencing hair loss, hair thinning or bald patches, this is the product for you. It's really simple to use and can be applied every day to the scalp. Suitable for both men and women and for all hair types. Check out our FAQs below for more info.

What is a hydrosol and what are the benefits?
A hydrosol is a flower water. It is highly effective, easy to use and non irritating.
The benefits of the SNI Rosemary hair growth stimulator are:
- Strengthening of the hair bulb
- Increased blood flow stimulating growth
- Smells pleasant. Usually rosemary has a harsh scent.
- Anti inflammatory for the scalp
- A great natural DHT blocker which is a huge cause of hair thinning and hair loss in women but especially so in men.
How do I use SNI Rosemary Hair Growth Stimulator?
 Shake well and spray all over your scalp or just concern areas (i.e. bald patches). Brush through and you're done! This is a great daily use spritz and go product. It has no oily or sticky residue.
This product can be effectively layered with other SNI hair care products and will be most beneficial when used with the SNI Natural Hair Growth Oil
What size is it and how long will it last me?
It is a 150ml bottle and should last 6-8 weeks with daily use.
How often shall I use it?
Daily is great but 2-3 times a week is also going to benefit you. As it's so quick and easy to use, daily is best.
Is it suitable for children?
This product like all our products, can be used for all the family including the children.
Is it suitable to use whilst pregnant and postpartum?
All products of any nature should be crossed checked with your midwife or healthcare professional when pregnant or breastfeeding. This product will be a game changer for those suffering postpartum hair loss.
How much is it and where can I purchase it?
You can purchase it for only £21.99 direct from our website: https://snihaircare.co.uk/products/sni-rosemary-hair-growth-stimulator-pre-launch
---