Why you just NEED the SNI Natural Hair Growth Oil in your life!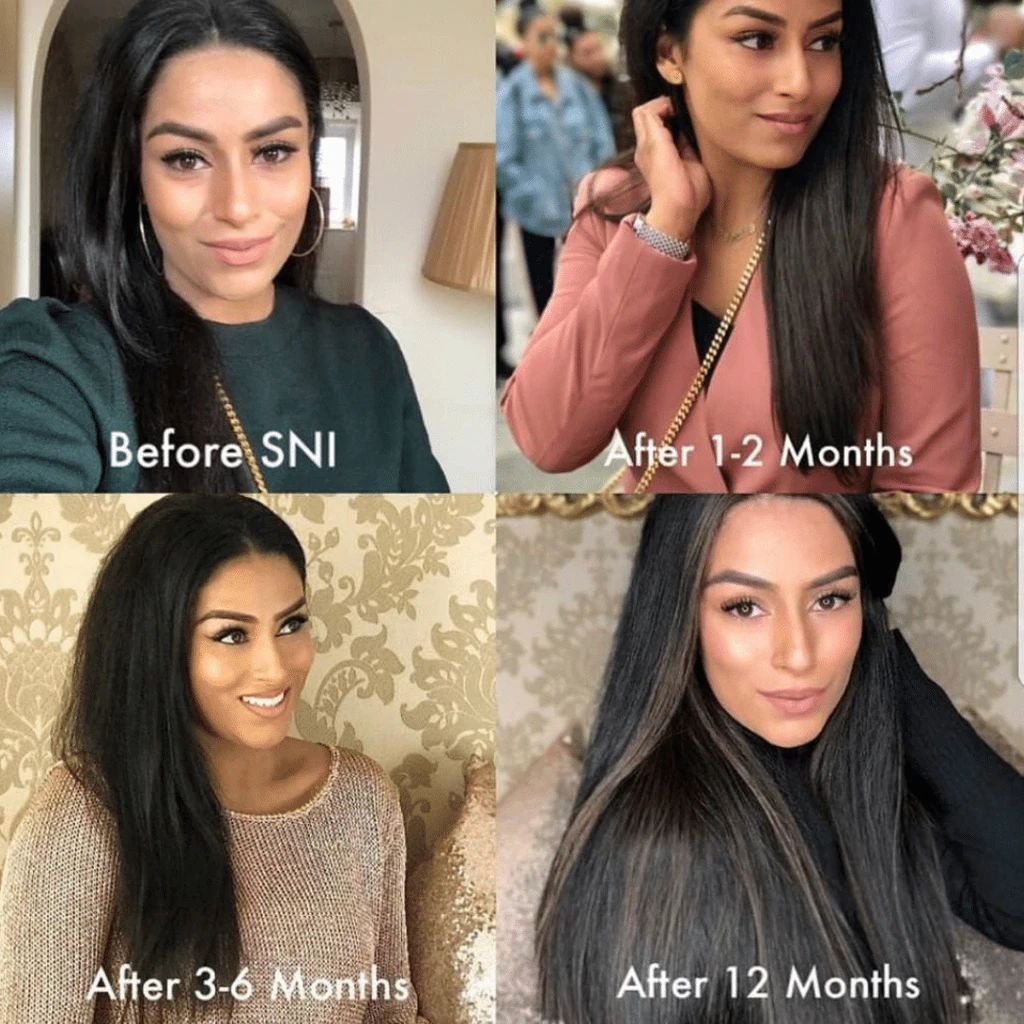 The Product That Started
The Entire SNI Journey!
Don't you just hate it when NOTHING works! This is exactly how we felt for several years whilst suffering with extreme hair loss, hair frizz and scalp psoriasis! We decided something had to be done and formulated the PERFECT Hair Oil; SNI Natural Hydrating And Nourishing Growth Hair Oil! 
Why The SNI Hair Oil Is So Unique
No waste, no mess

pump that can easily control the amount of product you need for your hair/eyebrows/nails!

Has been known to reduce severity of conditions such as Scalp

Psoriasis

,

Eczema

,

Flaky Scalp

& Other such

Scalp Conditions in our customers as per feedback.

Does not strip

your hair colour and keeps your colour looking

vibrant

for longer.

100 % Plant based natural formula

– free of

parabens

,

silicones

,

sulphates

,

petroleum

products,

dyes

or

synthetic

perfumes.

Slows down

hair loss including stress related hair loss amongst other causes as per feedback from our customers.

Super

penetrating lightweight

hair serum like oil that is

easy to wash out,

has a beautiful scent

and doesn't leave the hair looking

greasy.
Why The SNI Hair Oil Works?
Hair oils have traditionally always been thick, hard to wash out and have a particular unpleasant smell. Hair oils are generally very thick and hence are coating oils where they simply make hair shiny and strong and other benefits are limited due to this. Hair growth and hair loss reduction is dependent on many factors. With SNI hair oil, we have focused on ensuring the SNI Hair Oil helps
Blood circulation flow at the scalp to encourage hair growth,
Feed the scalp with much needed nutrients,
Keep the scalp healthy to ensure growth is not inhibited due to blocked follicles and an unhealthy scalp,
To relax and reduce some stress related hair loss,
Strengthens hair due to the lightweight, penetrative action of the SNI hair oil formula and not just on the surface like thick oils.
How Long Does It Take To See Results?
Overall, here is what our customers have said in their reviews,
I have been using this oil since it first launched and it's been the best thing ever! So lightweight but so awesome!
I love the oil, I have extremely frizzy fine hair and a dry scalp. I apply this on my hair and scalp after I washed my hair. Leaves my hair silky and smooth.
This product is a game changer. I suffer from psoriasis of the scalp. I used to itch and scratch my scalp to the point I made it sore fro kitne blood marks. Now it has improved so much since using this oil.I have used many other products some medicated too. But nothing has worked as well as this oil. I keep repurchasing it as it is really worth it. I oil my hair once a week and some time I may just apply some during the week as it is so light and doesn't over grease. It washes out like a dream unlike traditional oils which feel like you still have oil in your hair. I use this alongside the shampoo and conditioner and hair mists which. I love too. This is really good for coloured hair too makes the colour last ages. This oil is worth it and the price point is really reasonable compared to other oils. The new rice spray is another amazing product. Loving that too.
I first saw this product advertised on Instagram so naturally I was a little sceptical about whether I should purchase and if the results would be near as good as they looked from reading the reviews below. I decided to purchase and give it a go anyhow. I need not have worried I have now been using this oil for over 3 months and it is by far the best oil I have EVER used. Having used many different oils from amla to argan oil (all greasy and had a very strong smell – I used to hate putting in my hair and would avoid using as much as I could). I can tell you their is no oil better than this. It's already helped to reduce my hair loss, strengthen my hair and bring back my curls all whilst on continued medication. And best of all it even smells great and is non-greasy. I enjoy using this oil and apply it the night before I shower (max 3 times a week) and it works wonders. Try it and you won't be disappointed! Alhamodillah. JazakAllah for bringing out such a wonderful hair oil.
I've been using the sni miracle growth shampoo and conditioner and your oil after i have showered and once or twice a week nourish oil onto my scalp at night for over 4 months and it has cleared a scalp condition I had. I used to get spots and scabs and itching in my head. The doctors gave me many shampoos and medications over the years. 5 months ago before I started using theShampoo the dermatologist gave me a pill that is very strong and harmful at the same time . Whilst taking the pill I am not allowed to wax thread laser nothing at all hair removal wise. Nor conceive if I wanted to, my skin will become dry and also affect my hormones and will have to have regular blood test.I read reviews about your shampoo and ordered the travel size and it did miracles. It did what is said on the bottle "a miracle". I no longer have the scalp condition and nor did need to take the pill. I seriously highly recommend anyone suffering from the same condition as it very common and people do not like to talk about it as it can be embarrassing please try the products you will love it. I also got asked by family members at a party if I had extension in my hair as my hair looked longer.
The Snioil is the best oil so far my husband used. He started losing hair 4 years ago and had bald patch.He started using the SNI oil and hair loss stopped. There was growth of hair on the bald patch.
You can read these and more on the website product page reviews section. As you can see below, consistency is key. Ongoing care for your hair is a commitment which will pay off.
In general, hair becomes stronger, less prone to damage and breakage, longer, and thicker. We ask our customers to commit to a minimum of 90 days and more with their SNI Hair Care. Although many healthy customers will see a difference quite quickly, those with underlying causes as well need to use more consistently than those who do not. Those who are postpartum, have had an accident or other trauma in life will have to be more consistent than those who have not and so on. A combination of one or more of these factors requires even more dedication. Regardless, you can see the difference a complete full SNI hair care routine can have over 12 months below. The length of time of neglect is also a factor. Someone who has not treated their hair and scalp to a good routine over many years with other factors such as having had children, deficiencies, losing a loved one will have a different journey to those who have had factors start very recently. This is why we say, hair and skin care, weight management and so on) care is a journey not a destination!
You can find another example below,

How Should I Use SNI Hair Oil?
Several ways– ONE 100% NATURAL ORGANIC VEGAN FORMULA
There is no right or wrong way. Consistency is key! Here are some examples,
1. Recommended for Intense Nourish for Growth & Hair Loss issues:
Apply between 6-15 pumps of the SNI Nourishing and Hydrating Growth hair oil focusing on the scalp and ends. Leave in for a minimum of 2 hours or for best results overnight as per standard instructions on our labels. Other ways of using our Best selling product are,
2. Protection + Recovery:
Added protection and hair repair. After showering, dry hair and lightly apply two pumps of SNI Nourishing and Hydrating Growth hair oil to the palm of your hand and run through your hair focussing on the ends. Do not rinse with water, just allow your hair to dry as usual.
3. Healthy finish: Finishing treatment:
Apply one pump of SNI Nourishing and Hydrating Growth hair oil to your hands and apply evenly to dry hair, starting from the ends. Its non-greasy, quick drying effect will do the rest. Smooth out split ends and reduce frizz. Super fine hair may need just 1/2 pump. Thicker hair may need 2 pumps. The non-greasy effect is dependent on amount used for your hair type.
4. Perfect for a nearly instant hair loss reduction #Proteinboostmask or #Aloeboostmask:
Follow the steps to our much loved DIY #proteinboostmask which is great for those with extreme hair loss and damaged, dry hair. Add 2 yolks (or the whole egg) to 10-15 pumps of SNI Nourishing and Hydrating hair oil, whisk together and apply all over focusing on roots and ends for 45-120 mins before washing. Follow the steps to our favourite DIY repair #aloeboostmask which is great for scalp cell regeneration and achieving super conditioned, shiny hair. Apply equal parts of pure aloe Vera gel (whisk till the gel thins out for ease of use), with the SNI Nourishing and Hydrating hair oil and apply for up to 2 hours and wash out.
5. Pre-wash Recovery:
The most popular method. To be applied on the dry hair. Before shampooing, apply two pumps of SNI Nourishing and Hydrating hair oil to your hands and run through your hair, focussing on the tips. Leave on for 5-10 minutes. The hair oil can be left on for longer or even all night. Continue your usual washing routine. This is technique is best for those who are looking to maintain hair and keep frizz and split ends at bay. Men, women and children can enjoy this product. And there you have it! further questions? Feel free to comment below! Want to get your hands on some?
click here
---