Why Miracle Growth Shampoo Actually Works! | Sulphur Containing Shampoos | SNI Hair Care Blogs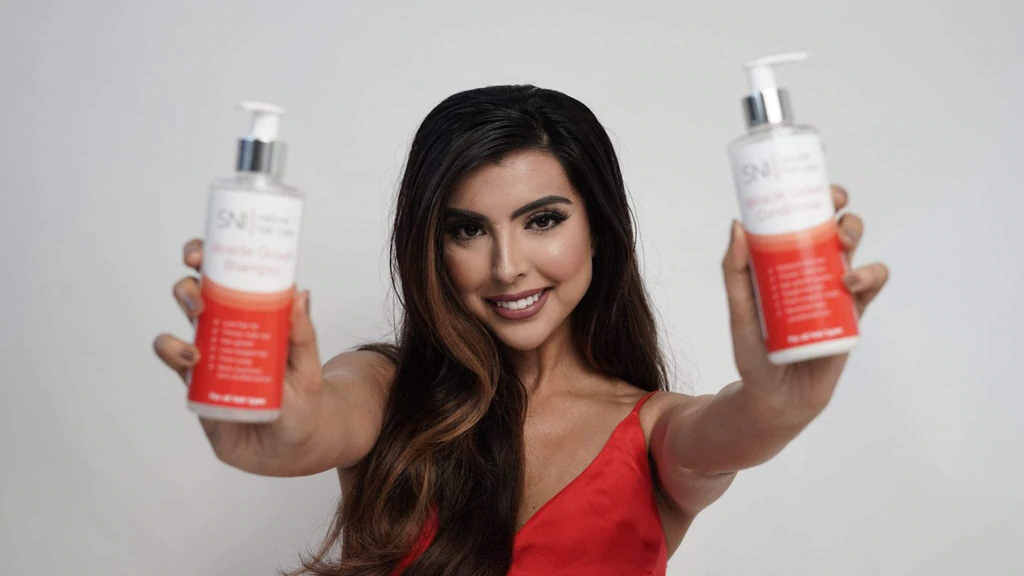 Miracle Growth Shampoo & Conditioner
The Miracle Growth Shampoo Conditioner Set is our best selling Shampoo Conditioner Duo. The key active ingredients are Baobab, Horsetail and Sandalwood. Our base formula uses coconut derivatives other harsh SLS chemicals and the SNI Miracle Growth Conditioner contains a variety of conditioning oils as well as Cationic Honey. 
What our customers have to say about Miracle Growth,
I've been using the sni miracle growth shampoo and conditioner and your oil for
over 4 months
and it has cleared a scalp condition I had. I used to get spots and scabs and itching in my head. The doctors gave me many shampoos and medications over the years. 5 months ago before I started using the Shampoo the dermatologist gave me a pill that is very strong and harmful at the same time . Whilst taking the pill I am not allowed to wax thread laser nothing at all hair removal wise. Nor conceive if I wanted to, my skin will become dry and also affect my hormones and will have to have regular blood test.I read reviews about your shampoo and ordered the travel size and it did miracles.
It did what is said on the bottle "a miracle". I no longer have the scalp condition and nor did need to take the pill.
I seriously highly recommend anyone suffering from the same condition as it very common and people do not like to talk about it as it can be embarrassing please try the products you will love it.
I also got asked by family members at a party if I had extension in my hair as my hair looked longer.
Before I started using this shampoo and conditioner, I had very very short hair as it had fallen out really badly over the course of a year. After 3 months of using this shampoo and conditioner (about 3 times a week), I now have lovely shoulder length hair! It is thick and looks so much healthier too. I've got about half a bottle left for each of them, so should hopefully last me another 2 to 3 months. The smell of this shampoo and conditioner is amazing. I love that sandalwood scent, which lingers even on the second and third day after washing. I will never go back to using chemicals on my hair again! You can find these reviews and many more on the reviews section of each product page.
The reason why Miracle Growth works well for our customers is simply due to the perfect synergistic blend of effective ingredients in the right ratios. Today we will focus on just one key component, Sulphur containing Amino Acids!
Background on Sulphur
Sulphur is one of the major elements in the atmosphere It's all around you, including in the soil your food grows in, making it an integral part of many foods. Your body uses sulphur for various important functions, including building and repairing DNA, as well as protecting your cells against damage. Thus, including enough sulphur-rich foods in your diet is vital for your health. Sulphur, calcium, and phosphorus are the three most abundant minerals in the human body Sulphur plays an important role in crucial functions in your body, such as making protein, regulating gene expression, building and repairing DNA, and helping your body metabolise food This element is also essential for making and recycling glutathione — one of the body's main antioxidants that help reduce inflammation and prevent cell damage caused by oxidative stress. Sulphur also helps maintain the integrity of connective tissues, such as your skin, tendons, and ligaments. Many foods and beverages — even drinking water from certain origins — naturally contain sulphur. Some medications and supplements, including certain antibiotics, analgesics, and joint pain remedies, contain varying levels of this mineral as well Sulphur is found in a large variety of foods. The biggest categories include
Meat and poultry: especially beef, ham, chicken, duck, turkey, and organ meats like heart and liver
Fish and seafood: most types of fish, as well as shrimp, scallops, mussels, and prawns
Legumes: especially soybeans, black beans, kidney beans, split peas, and white beans
Nuts and seeds: especially almonds, Brazil nuts, peanuts, walnuts, and pumpkin and sesame seeds
Eggs and dairy: whole eggs, cheddar, Parmesan and gorgonzola cheese, and cow's milk
Dried fruit: especially dried peaches, apricots, sultanas, and figs
Certain vegetables: particularly asparagus, broccoli, Brussels sprouts, red cabbage, leeks, onion, radishes, turnip tops, and watercress
Certain grains: especially pearl barley, oats, wheat, and flour made from these grains
Certain beverages: particularly beer, cider, wine, coconut milk, and grape and tomato juice
Condiments and spices: especially horseradish, mustard, marmite, curry powder, and ground ginger
Sulphur & Hair
Human hair is made from a protein called keratin, which is high in sulphur content. The presence of sulphur gives healthy hair its strength and elasticity; conversely, the absence of enough sulphur leads to brittle hair that is easily broken.
One of the miracle components of SNI Miracle Growth Range contains Sulphur-rich Amino Acids!
It is no wonder SNI Miracle Growth is a best seller for those looking for hair growth and reducing hair loss.
You can get yours here!
---