15 Foods to Eat for Healthy Hair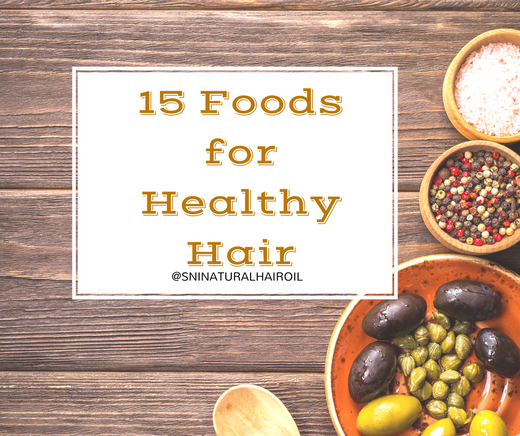 Hello SNI Natural Hair Care Family, Today's blog post is all about food and what kind of foods we should be putting in our bodies, because although oiling your hair with SNI Natural Hair Oil will help stimulate hair growth, it is important to also consider what we are consuming. Let's face it, abs are made in the Kitchen and so is healthy hair. We keep on hearing sayings such as "you are what you eat" and this is because what you are digesting internally determines how long, strong, and shiny your strands are. Sure a good hair care routine is important, and picking a shampoo and conditioner is
part
of the process, but true beauty comes from what you are putting
in
your body. This is why like your skin, body, and muscles, healthy hair is also made in the kitchen. To ensure your hair is receiving as much healthy help as possible, you must include three types of foods for proper hair care and hair growth. These foods include: Lean Proteins, Fruits and Vegetables, and Essential Fats. Read on below to see what foods Team SNI Natural Hair Care recommends you incorporate in your diet for healthy, luscious hair.
Protein
Eggs
Protein is a primary component of hair, so you need to eat protein-based foods like eggs to keep your hair healthy. In addition to protein, eggs are a great source of biotin and other B vitamins that help control hair loss. The protein present in eggs is considered high quality protein and is excellent for hair growth and hair strength. Tip: For maximum results, eat both the egg white and yolk. Egg white has a protein that encourages protein absorption in the body. Try to eat one egg daily or every other day. You can eat scrambled, fried or boiled eggs, depending on your preference.
Chicken
Chicken is another great source of protein and helps to strengthen fragile hair. No wonder why dietitians and trainers urge to include this rich source of protein in our diets. Consuming a balanced diet and incorporating the recommended weekly servings of chicken can help you get the hair you have always wanted.
Tip: Try to include Chicken in your eggs, your salads, or your whole wheat tortillas if you are bored of plain baked or grilled chicken.
Salmon
Salmon is an amazing superfood and has a good amount of protein as well as omega 3 fatty acids, and Vitamin B which are great for hair growth. A lack of protein can be a cause for hair loss, so by adding salmon and other fatty fishes (tuna,sardines, trout) in your diet can prevent hair loss. The American Heart Association recommends including Salmon in your diet 2-3 times per week.
Tip: Add smoked salmon to your breakfast toast, or bake salmon with natural herbs and lemon for a filling dinner. There are countless of Salmon recipes on the internet, and Team SNI encourages to include this in your diet for beautiful, healthy hair.
Lentils
 Lentils are a great protein option if you are vegetarian or vegan and are rich in iron, folic acid, protein, vitamin B, potassium, magnesium, phosphorous and fibre. Iron and folic acid are essential for hair growth and increase the supply of oxygen to the brain which propels hair growth. Team SNI suggest to incorporate various types of lentils (i.e, kidney beans, chickpeas, ect) into your daily diet for luscious locks.
TIp: You can cook lentils in so many different ways, grind them for lentil soup, put them in a whole wheat tortilla with an avocado spread for a healthy lunch, or ad them in your salads for that protein boost. The options are endless!
Greek Yoghurt
Greek Yoghurt is another great source of protein. with it's abundant supply of calcium, potassium, zinc, vitamins B6 and B12, probiotic cultures and twice the protein content of regular yogurts. All of these nutrients are essential for healthy tresses. Greek yoghurt can help moisturise hair and helps aid with a healthy scalp.
Tip: Add granola and berries for an extra boost in faster growing healthy hair. Greek Yoghurt can also be added to your fruit smoothies, or can be frozen for a great summer treat.
Leafy Greens & Vegetables
Sweet Potato
 Beta carotene protects against dry, dull hair and stimulates the glands in your scalp to make an oily fluid called sebum. So where do you find this magic food for the hair? In Sweet Potatoes! Sweet Potatoes are packed with Vitamin A, and are great for the hair. Try to incorporate this amazing vegetable in your diet 2-3 times per week.
Tip: Sweet Potatoes can be baked with olive oil and sea salt for a healthy snack, or can be roasted in the oven to accompany any meat. Throw these bad boys in your salad for a hearty meal.
Spinach
 This leafy vegetable is excellent for your body for many reasons. Spinach contains folate, which is a B vitamin that aids the creation of red blood cells. Spinach also contains iron which helps the red blood cells carry oxygen. With iron deficiency, cells can't get enough oxygen to function properly and one can get anemic. The result can cause weakness, fatigue, and maybe even hair loss. This is why adding spinach in your diet will do wonders for your hair.
Tips: Add a handful of Spinach to your smoothie, grind it with your pesto sauce to incorporate in pastas, or use it as a base for your salad. Spinach will do wonders for your hair!
Broccoli
 Broccoli is a great source of vitamins A, C and beta carotene, which help hair grow strong and healthy by improving the condition of the hair and protecting the hair shafts.
Tip: Roast or steam broccoli and put it in a container. Store in the fridge and pop it out to use it as a side to accompany your main meal.
Carrots
Carrots are super beneficial for fighting hair loss because they are packed with Vitamin A. They also contain beta-carotene and are also great for your eyes, skin, and teeth. Eating carrots can promote hair thickness, stimulate hair growth, and increase scalp blood circulation.
Tip: Carrots can be incorporated in your diet in so many ways. You can snack on them with a tablespoon of peanut butter, add them to your salads, or juice them up! Team SNI loves to add carrots to soups and roast them in the oven with our daily protein intake. Let us know in the comments below how you incorporate carrots in your diet!
All types of Berries
Who doesn't love berries? Whether it's strawberries, blueberries, blackberries, try to incorporate these fruits in your diet because berries are packed with antioxidants and Vitamin C which helps in the production of collagen. This helps to strengthen the capillaries that supply the hair shafts.
Tip: Add berries to your smoothie, fruit salad, or yoghurt for beautiful hair.
Bananas
Bananas are a great source for healthy hair growth. The major benefits of banana for hair growth includes high potassium that strengthens your hair and reduces breakage. Bananas are also rich in zinc and vitamin B and are not only great for your hair but your overall health.
Grapefruit
 Loaded with vitamin C, grapefruit is one of the yummiest and best options to have. Apart from boosting collagen production, this vitamin also makes it easier for your body to absorb iron.
Tip: Team SNI loves to incorporate Grapefruit in salads, juices, smoothies and desserts!
Healthy Fats
Avocados
Avocados are known as a
superfood
and this is because they contain so many amazing nutrients including biotin--or vitamin B7 which is known to help promote full, thick, and healthy hair. The good fats in avocados offer twice the amount of potassium in one banana, and contain other nutrients such as folate, fiber, and magnesium to help with hair health. In Ayurvedic medicine, avocados were known to help tone skin and improve body health as a whole. Today, avocados are becoming more popular as more and more people are learning about the wonders of this amazing fruit.
Tip: Try to incorporate avocados in your day by adding it to your smoothies or pesto sauce. You can even whip up some guacamole and have it with some whole grain pita chips for a quick snack. Our favourite way to use avocados? Spreading it on our breakfast toasts! The options are countless!
Nuts
Almonds, Walnuts, Cashews, and Peanuts are all great sources of healthy fats. A handful of nuts a day can be very beneficial to your hair. This is because nuts are not only a great source of protein, they also contain omega-3 fatty acids (hair re-generator) and zinc (prevents hair loss).
Tip: Nuts can be used in so many ways. Add toasted almonds or cashews in your salad for that extra protein boost, or you can sprinkle chopped nuts in your greek yoghurt, for that extra crunch.
Peanut Butter
If you aren't someone who enjoys chomping on nuts, then try to incorporate peanut butter in your diet. Peanuts contain zinc which is amazing for hair growth. Zinc deficiency can lead to hair loss, but a spoonful of peanut butter can easily fix that.
Tip: You can use peanut butter in a variety of different ways. You can spread it on your breakfast toast and top it off with your favourite fruit. We like to incorporate a tablespoon of peanut butter in our smoothies. Craving some ice cream? Then blend 1 frozen banana and a tablespoon of peanut butter for a healthy ice cream alternative.
This concludes our 15 foods to incorporate in your diet. Remember, beauty comes from what you put inside your body as well as how you treat you hair. A combination of a healthy diet and a good hair regimen will do wonders for your hair! Much Love & Until Next time, Team SNI Natural Hair Care
---